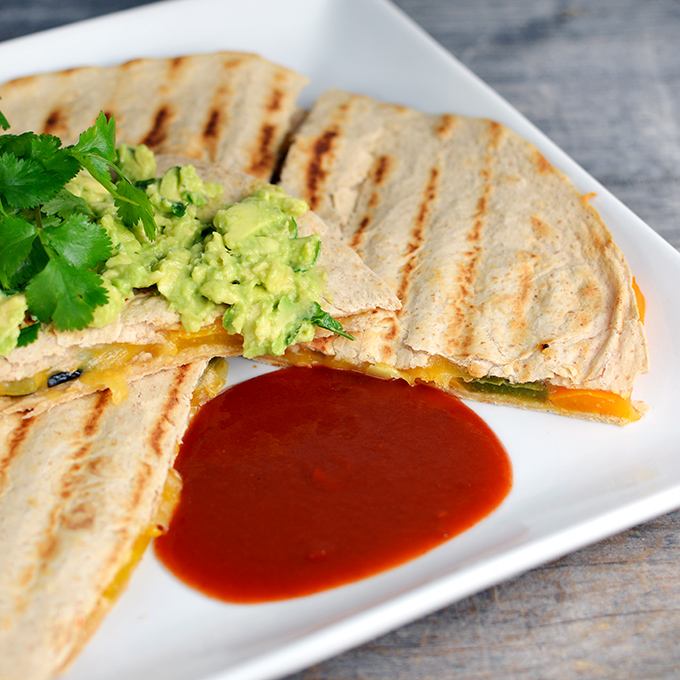 My Vegetable Fajita Quesadillas are an easy, no fail, perfect for a weeknight dinner. Serve with guacamole, sour cream, pico de gallo and a cold beer.

Vegetable Fajita Quesadillas
Ingredients
1 red bell pepper cut into strips
1 orange bell pepper cut into strips
1 green bell pepper cut into strips
1 zucchini cut into small cubes
1 tbsp olive oil
juice of 1 lime
pinch of salt
pinch of cayenne pepper
6 large 8-inch whole wheat tortillas
2 cups shredded Colby jack or pepper jack cheese
Instructions
In a medium sauté pan, cook bell peppers, zucchini and olive oil on medium heat for about 5 minutes.
Add lime juice, salt and cayenne once veggies are slightly tender.
Remove from heat.
Heat a grill pan on medium heat and lay one tortilla flat on the pan (no need to grease the pan). Immediately sprinkle ½ cup of cheese evenly over tortilla and evenly spread about ⅓ of veggie mixture over the cheese and place second tortilla over the top.
Use a spatula to lightly press down on the quesadilla.
After two 2 minutes, flip to opposite side and grill for another two minutes or until both sides have brown grill marks and cheese is completely melted.
Be careful not to burn tortillas.
Repeat steps for remaining two quesadillas.
Slice into quarters and serve hot with guacamole, sour cream and pico de gallo.