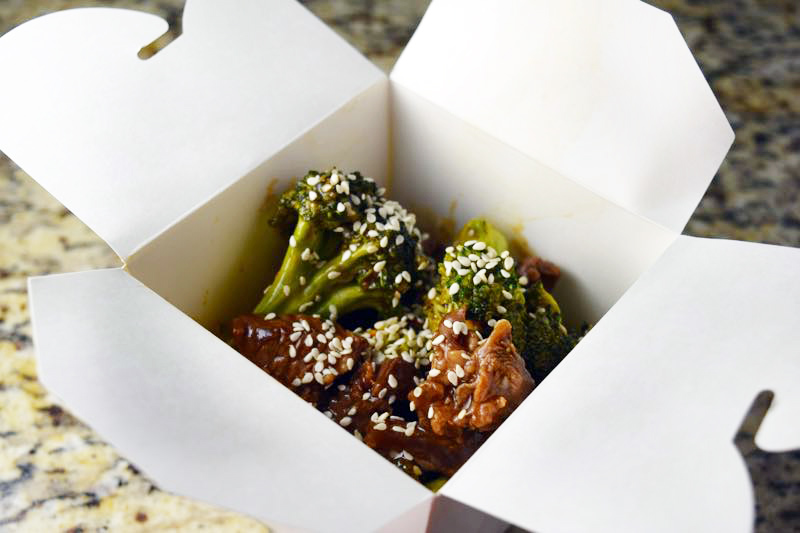 If you love spicy food and Beef wth Broccoli, you will love this Spicy Beef with Broccoli. It's a new spin on a traditional Chinese classic. Serve with rice or chow mein for a perfect Chinese weeknight dinner. Enjoy!

Spicy Beef With Broccoli
Ingredients
2 tbsp vegetable oil
1 12-oz ribeye steak, thinly slices into strips
2 large heads of broccoli, chopped into small florets
¼ cup reduced sodium soy sauce
1 tbsp hoisin sauce
1 tsp toasted sesame oil
1 tbsp rice vinegar
½ tsp red pepper flakes
2 garlic cloves minces
1 shallot chopped
1 inch ginger, minced
1 tbsp corn starch
4 tbsp warm water
1 tbsp toasted sesame seeds, for garnish
Instructions
In a large measuring cup, whisk together soy sauce, hoisin sauce, toasted sesame oil, rice vinegar, pepper flakes, garlic, shallot, and ginger. Set aside.
In a large wok or sauté pan over medium-high heat, sauté steak strips in 1 tbsp vegetable oil for 3-5 minutes or until they are fully cooked. Remove meat.
Sauté broccoli in 1 tbsp vegetable oil for 2 minutes. Return the steak strips to the pan and pour in the soy sauce mixture. Sauté for two minutes.
Mix corn starch into warm water, creating a slurry. Pour the slurry mixture into beef with broccoli and regularly mix for about three minutes until the sauce thickens.
Remove from heat and garnish with toasted sesame seeds. Serve with rice or chow neon. Enjoy!