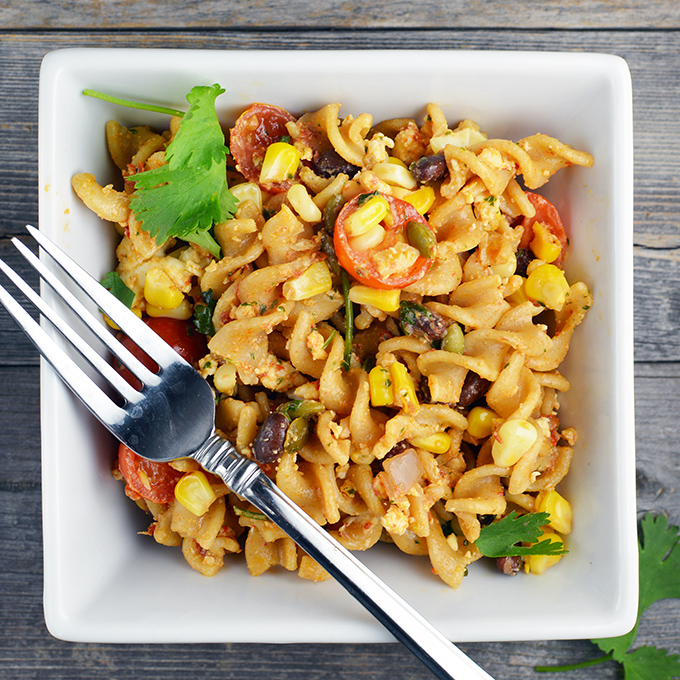 My Southwestern Pasta Salad With a Kick is a delicious, balanced, meal on it's own. It's a perfect summertime dish to take along for any picnic and enjoy with a crowd. You can also top it with fresh avocado or grilled salmon.

Southwestern Pasta Salad With A Kick
Ingredients
Salad:
1 lb package of pasta, cooked al dente
½ cup roasted corn, cut off the cob
½ cup cherry tomatoes, sliced in halves
¼ cup pickled jalapenos, sliced into tiny pieces
1 can black beans, rinsed and drained
¼ cup fresh cilantro, chopped
handful of roasted pumpkin seeds
½ cup crumbled Mexican cotija cheese
Dressing:
½ cup sour cream
½ cup buttermilk
1 canned chipotle pepper
juice of 2 limes
2 cloves of garlic
1 tbsp fresh cilantro
pinch of salt
Instructions
In a large bowl, toss together all of the salad ingredients.
For the dressing place all ingredients for dressing into a blender and blend on high until completely smooth.
Pour dressing over salad and toss thoroughly.
Garnish with extra pumpkin seeds and fresh cilantro.