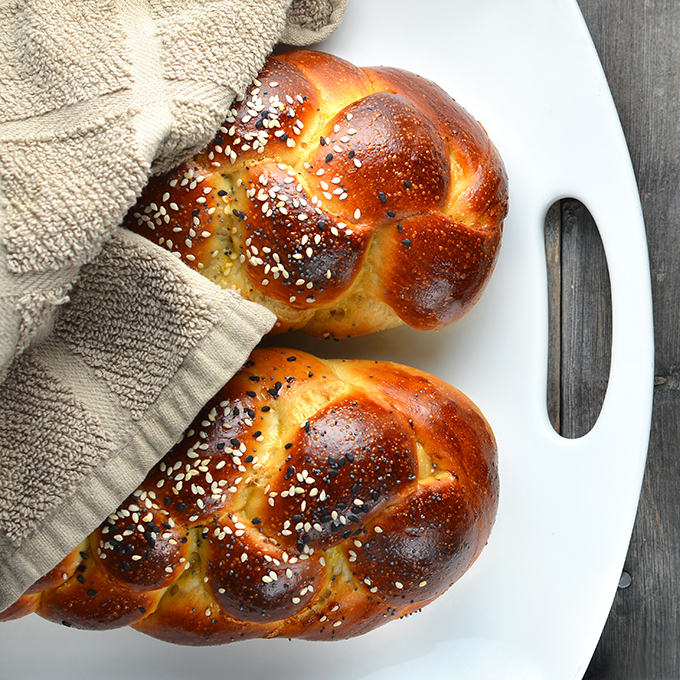 My Shabbat Egg Challah is just what every dinner table needs at the end of a long week. While it takes time to prepare, it is not complicated. The dough is perfectly sweet and soft on the inside and slightly chewy on the outside. This dough is very easy to work with an you can braid it in any way you wish. You can also top it with anything including sesame seeds, poppy seeds, garlic, coarse salt, rosemary, cinnamon sugar, or even sprinkles (very popular with kids). You can even add raisins, dried cranberries or chocolate chips to the dough itself. Your house will be filled with the most delicious aroma as your Challah bakes in the oven.
This challah pairs beautifully with almost any dipping sauce including hummus, tahini, babaganouj, balsamic and olive oil with herbs, or tapenade. It is also fantastic when served warm with butter. Who needs a full meal anyway when you have Challah warm from the oven and a glass of wine? Challah leftovers can be used the next day to make delicious French Toast, Bread Pudding, Stuffing, or Croutons. After using this recipe once, you will be hooked. Enjoy!

Shabbat Egg Challah
Ingredients
2 tbsp. dry active yeast
1½ cups luke warm water
¼ cup honey
¼ cup sugar
¼ cup oil
3 eggs
Pinch of salt
6-8 cups all purpose flour
1 egg yolk plus 1 tbsp. of water (for egg wash)
Instructions
In a mixer, combine yeast and warm water.
Let stand for 5 minutes.
Attach the dough attachment to the mixer.
With the mixer on low, add all ingredients except flour.
When well combined, gradually add flour, one cup at a time until dough forms a ball that is just slightly sticky.
Remove dough and add to a greased bowl.
Cover and let stand until dough has doubled in size.
Remove dough from bowl and braid (or shape), as desired.
Place on greased pan.
Brush with egg wash.
Bake at 400 degrees for 20 minutes.