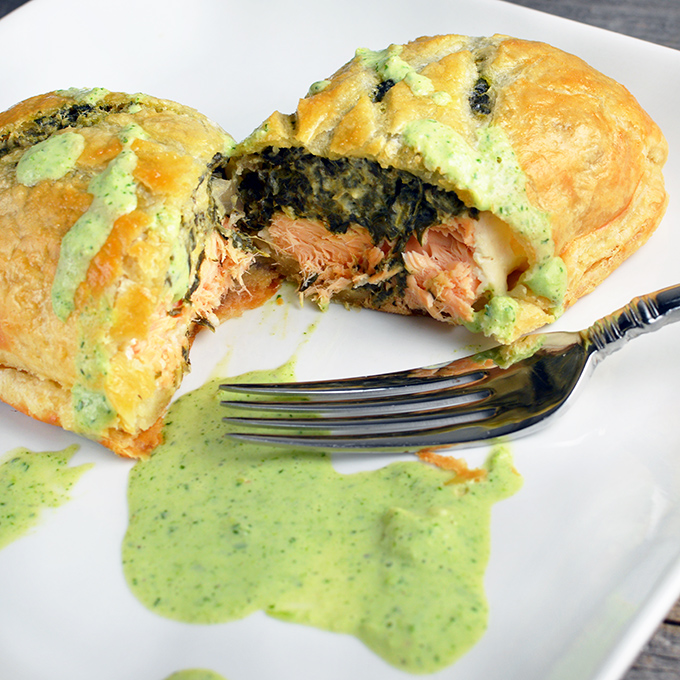 This recipe is inspired by some dear friends of ours who once invited us over for Salmon Wellington. It was delicious beyond words and so I decided to replicate their recipe, but with my own spin on it. My Salmon Wellington With Creamy Herb Sauce is a fancy yet simple meal to make. It's perfect for impressing dinner guests and pretty much no-fail. Enjoy!

Salmon Wellington With Creamy Herb Sauce
Ingredients
Salmon Wellington:
¼ cup chopped onions
1 tbsp olive oil
¼ cup white wine
2 cups frozen spinach, thawed and drained
½ cup cream cheese
¼ cup Parmesan cheese, grated finely
1 tsp salt
1 tsp pepper
2 tbsp breadcrumbs
4 salmon filets (boneless, skinless, about ½ lb each)
1 package frozen puff pastry (2 sheets), defrosted in refrigerator overnight
1 egg yolk plus 1 tbsp water whisked together (egg wash)
Creamy Herb Sauce:
1 cup Greek yogurt
Juice of 1 large lemon
2 whole fresh cloves of garlic
2 green onions roughly chopped
¼ cup fresh cilantro
¼ cup fresh dill
¼ cup fresh basil
1 tsp kosher salt
1 tsp black pepper
Instructions
In a medium sauté pan, cook onions and olive oil on medium heat until translucent, about 3-5 minutes.
Add wine and continue cooking until it is mostly evaporated.
Add spinach and cook for another 3 minutes. Add cream cheese and mix constantly for about 2 minutes or until it is completely incorporated into spinach and it has a creamy look to it.
Remove from heat.
Add Parmesan cheese, salt, pepper and bread crumbs. Mix until all ingredients are combined.
Mixture should not be liquidy.
If it is, add another tbsp breadcrumbs. Set aside.
Prepare a large baking sheet with parchment paper. Preheat oven to 405 degrees F.
On a large clean surface, unfold one sheet of cold puff pastry.
Use a pizza-cutter or a sharp knife to cut it in half (horizontally).
Holding one piece of salmon in your clean hand, use a spoon to portion a thick layer of spinach mixture onto the top surface of salmon filet.
Wrap one of the halves of the puff pastry sheet directly over the top of spinach layer and make sure It is centered over the salmon.
Tuck the corners of puff pastry underneath bottom of salmon filet, completely enclosing salmon within the pastry.
You might need to stretch the pastry with your fingers to make it fit completely around the filet.
Pinch the corners of puff pastry together underneath salmon filet and place it on prepared baking sheet, smooth-side up.
Repeat three more times with remaining ingredients.
Once all four pastry-covered filets are on baking sheet evenly spread apart, use a knife to score the tops of each piece slightly to allow steam to be released while baking.
Use a brush to lightly egg wash each piece completely and bake for about 25-30 minutes or until puff pastry is golden brown.
In the meantime, place all ingredients for herb sauce in blender and blend on high for 10 seconds or until sauce is smooth and creamy with no chunks.
Serve Salmon Wellington with Creamy Herb Sauce.