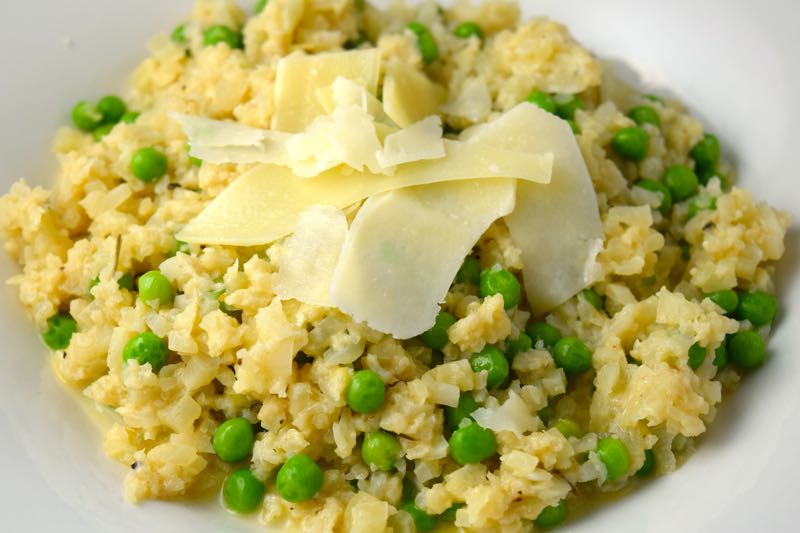 This Riced Cauliflower Risotto With Peas is a lower carb side to go along with any Italian meal. Although it's low in carbs, it is high in flavor and heartiness. Enjoy! 

Riced Cauliflower Risotto With Peas
Ingredients
2 tbsp butter, unsalted
2 shallots, minced
4 cloves of garlic, smashed
½ cup dry white wine
1 tsp dried rosemary
3 cups cauliflower raw, riced
½ vegetable broth, reduced sodium
⅓ cup half and half
¼ cup shaved parmesan cheese
⅔ cup frozen peas
Salt and Pepper to Taste
Instructions
In a large Dutch oven over medium-high heat, sauté shallots in butter for 3 minutes.
Add garlic and sauté for additional 2 minutes.
Add dry white wine to deglaze and scrape bits from bottom of pan and let simmer for 2 minutes.
Add cauliflower, vegetable broth, dried rosemary, salt and pepper, and let simmer for another 5 minutes.
Stir in half and half and parmesan cheese until evenly coated.
Gently toss in frozen peas and remove from heat. Place lid on the Dutch oven for 3 minutes until peas are hot and then serve.
Enjoy!