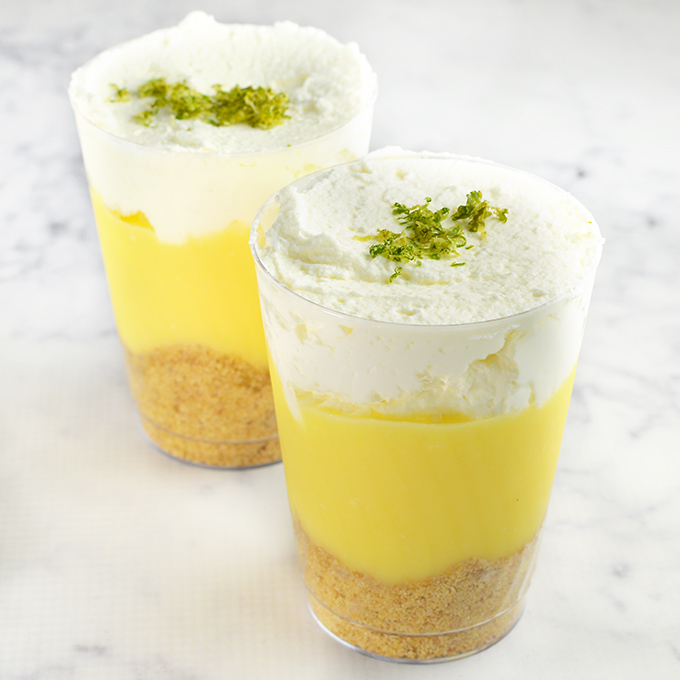 My Key Lime Pie Cups are delightfully refreshing desserts that can accompany any meal any time of the year. They are also perfect individual desserts to pack along for a picnic in the summer. They are tart, sweet and creamy with a slight crunch. What's not to enjoy?

Key Lime Pie Cups
Ingredients
Lime Curd:
½ cup lime juice
1 cup sugar
1 stick unsalted butter
7 eggs
Crust Layer:
6 whole graham crackers
¼ cup sugar
¼ cup unsalted butter, melted
Topping:
1 cup whipping cream
¼ cup sugar
Lime zest, for garnish
Instructions
Combine the lime juice, sugar and butter in a medium saucepan over a low heat until the butter melts.
Beat the eggs and add to the saucepan and stir until combined.
Bring to a simmer.
Stir constantly and cook until the mixture becomes thick and creamy for about 5 minutes.
Pass mixture through a mesh strainer.
Chill for 2 hours in the fridge.
Add the graham crackers and sugar to a food processor.
Pour in the melted butter and pulse to combine.
Set aside.
Whip the cream with the sugar until stiff.
To assemble, layer the crumb mixture into the bottom of a serving cup, followed by the lime curd.
Top with the whipped cream and garnish with lime zest.
Chill until ready to serve.