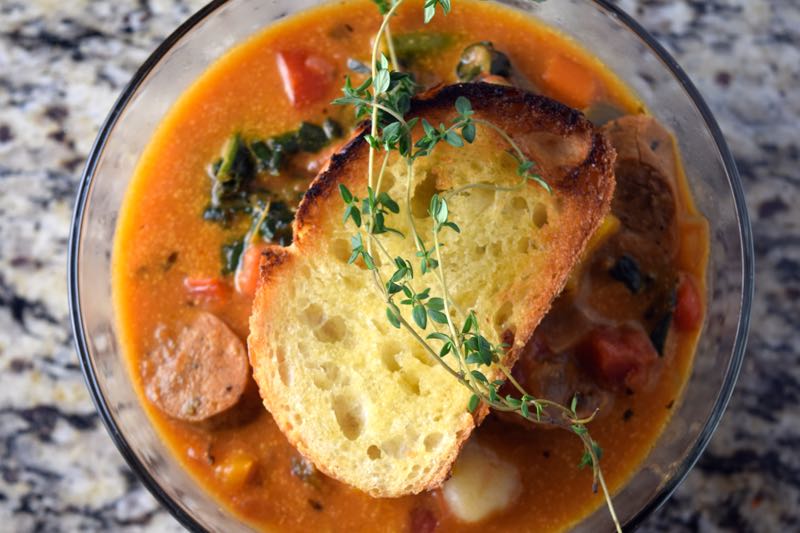 When the weather gets cooler, I love to warm up with a bowl of this Hearty and Healthy Fall Gnocchi Soup. I use chicken sausage instead of red meat sausage, and coconut milk instead of heavy cream to give this soup a healthy twist. Serve with toasted baguette and enjoy by the fireplace! 

Hearty and Healthy Fall Gnocchi Soup
Ingredients
3 tbsp EVOO
1 medium red onion, roughly chopped
2 carrots, peeled and roughly chopped
1 cup butternut squash, chopped into 1" cubes
4 spicy chicken Italian sausages, sliced into coins
2 cloves of garlic, peeled and smashed
⅔ cup frozen multicolored bell pepper strips, thawed
½ cup dry white wine
1 can tomato paste
1 cups vegetable stock, low sodium
1 can coconut milk
1 small bunch of fresh thyme, tied together with twine
2 bay leaves
2 cups Tuscan kale, roughly chopped
2 cups gnocchi
Salt and Pepper to taste
Instructions
In a large pot over medium-high heat, sauté red onion, carrots, butternut squash, and chicken sausage coins for five minutes.
Add garlic, bell peppers, and sauté for 3 more minutes.
Pour in dry white wine and deglaze the pot by scraping the brown bits off of the bottom of the pot.
Add tomato paste, vegetable stock, coconut milk, thyme, bay leaves, salt and pepper to taste. Let soup simmer on low for 40 minutes.
Add Tuscan kale and gnocchi and let simmer for another 10 minutes.
Remove bay leaves and thyme bunch and serve with toasted baguette, Enjoy!