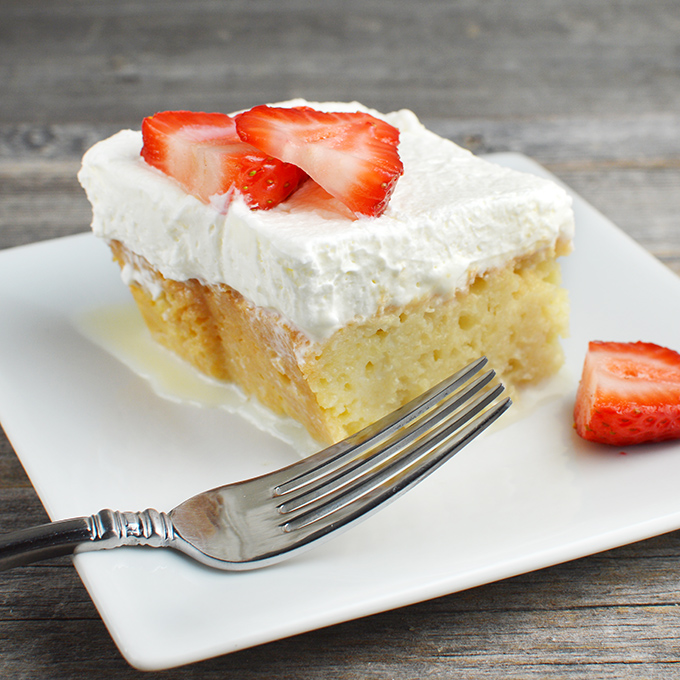 My Creamy Tres Leches Cake is a dessert masterpiece. It is simple to make and delicious beyond words. This is one of the best desserts you will every make. Enjoy!

Creamy Tres Leches Cake
Ingredients
1 ½ cups all-purpose flour
1 tsp baking powder
½ cup unsalted butter, softened
1 cup sugar
5 eggs
1 tsp vanilla extract
2 cups whole milk
1 14-oz can sweetened condensed milk
1 12-oz can evaporated milk
1 ½ cups heavy whipping cream
½ cup sugar
1 tsp vanilla extract
Sliced strawberries (optional for garnish)
Instructions
Preheat oven to 350 degrees F.
Grease one 9x13 inch baking pan.
Sift flour and baking powder together and set aside.
Cream butter and 1 cup sugar together until light and fluffy.
Add eggs and the ½ teaspoon vanilla extract.
Gradually add the flour mixture to the butter mixture;
Mix until combined.
Pour batter into prepared pan.
Bake at 350 degrees F for 30-40 minutes.
Pierce cake several times with a toothpick.
Whisk together whole milk, condensed milk, and evaporated milk.
Pour over the top of the cooled cake.
Whip heavy cream, the remaining ½ cup of the sugar, and the remaining 1 teaspoon vanilla together until thick.
Spread evenly over the top of cake.
Refrigerate for at least one hour before serving.
Garnish with sliced strawberries.