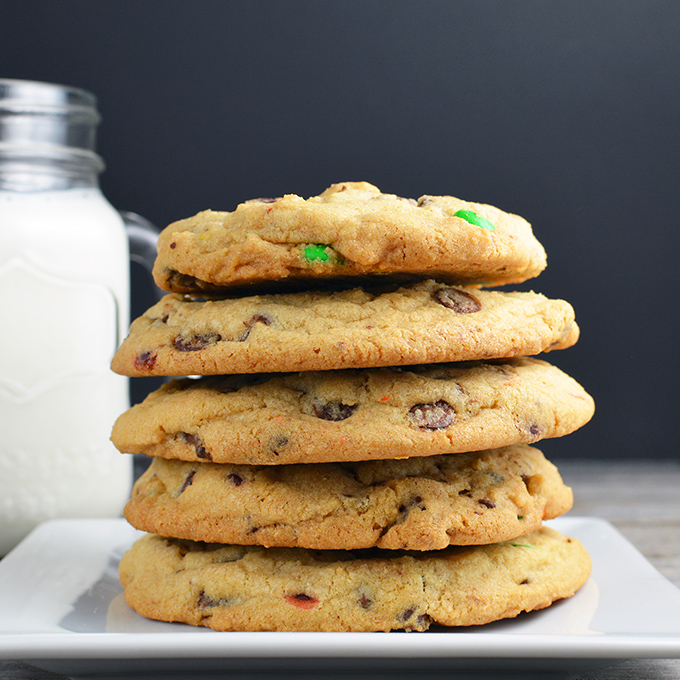 My Chewy Gooey Chocolate Chip M&M Cookies are great cookies for any occasion. This is a no-fail recipe for a classic cookie perfect for dunking into a tall class of ice-cold milk. These cookies are also perfect for making ice cream sandwiches. Place a scoop of your favorite ice cream in between two cookies and enjoy!

Chewy Gooey Chocolate Chip M&M Cookies
Ingredients
2¼ cups all-purpose flour
½ teaspoon baking soda
1 cup (2 sticks) unsalted butter, room temperature
½ cup granulated sugar
1 cup packed dark brown sugar
1 teaspoon salt
1 teaspoon vanilla extract
2 large eggs
1 cup semisweet chocolate chips
1 cup mini M & M candies
Instructions
Preheat oven to 350 degrees.
In a small bowl, whisk together the flour and baking soda and set aside.
In the bowl of an electric mixer fitted with paddle attachment, combine the butter with both kinds of sugar.
Beat on medium speed until light and fluffy.
Reduce speed to low and add the salt, vanilla, and eggs.
Beat until well mixed, about 1 minute.
Add flour mixture and mix until just combined.
Stir in the chocolate chips and candy pieces.
Use a large ice cream scooper to drop scoops of dough about 2 inches apart on baking sheets lined with parchment paper.
Bake until cookies are golden around the edges, but still soft in the center, 8 to 10 minutes.
Remove from oven, and let cool on baking sheet 1 to 2 minutes.
Transfer to a wire rack, and let cool completely.