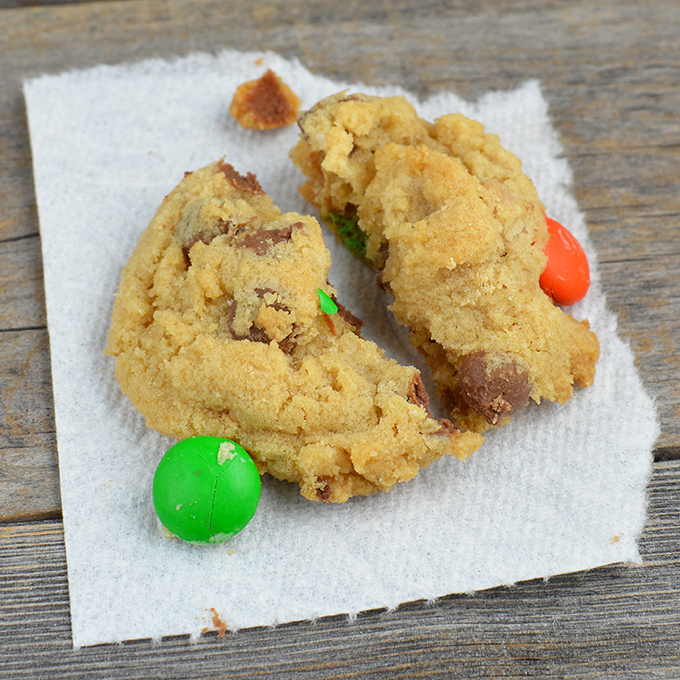 My Chewy Everything Cookies are a divine combination of chocolate chips, peanut butter chips and M&M's embedded in a sweet and buttery dough. They are perfect as a snack, lunch-box surprise, or dessert with any meal. Enjoy with an ice-cold glass of milk or hot cup of coffee.

Chewy Everything Cookies
Ingredients
½ cup butter softened
½ cup granulated sugar
½ cup packed brown sugar
1 large egg
½ teaspoon pure vanilla extract
1⅓ cups all purpose Flour
¼ cup vanilla instant pudding mix
½ teaspoon baking soda
½ teaspoon salt
1 cup chocolate chips
1 cup peanut butter chips
1 cup M&M's
Instructions
Preheat oven to 350 degrees F and line a large baking sheet with parchment paper.
Using a mixer, in a large mixing bowl, cream together butter and sugars until smooth.
Add egg and vanilla and mix until well combined.
Next, add in flour, instant pudding mix, baking soda and salt and mix until just combined on low speed. Remove the mixer paddle from the bowl.
Add the chocolate chips, peanut butter chips and M&M's. Fold in with a spatula.
Using a small cookie scoop, scoop and place dough scoops on baking sheet, 1 inch apart.
Bake for approximately 10-12 minutes or until slightly golden.
Allow cookies to cool on cookie sheet for 10 minutes before transferring to cooling rack.