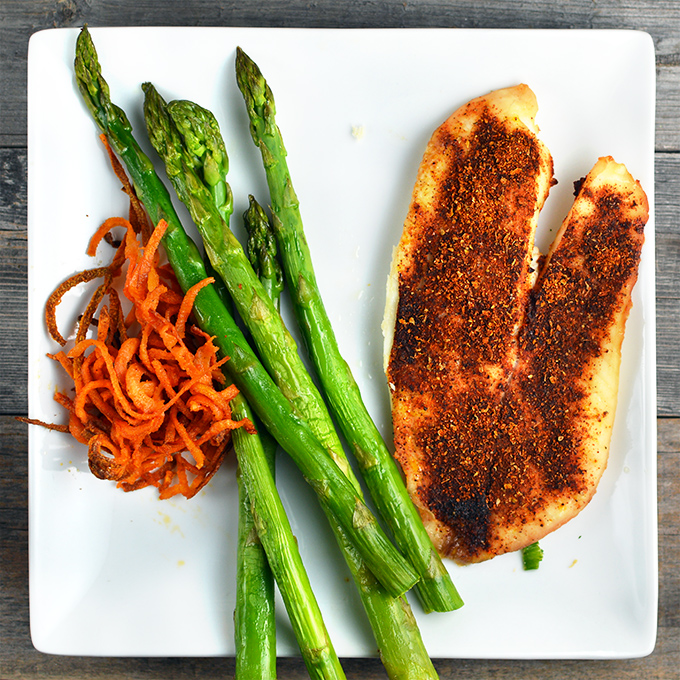 My Cajun Tilapia With Asparagus and Sweet Potato Noodles is a healthy and simple meal suitable for every night of the week.

Cajun Tilapia With Asparagus
Ingredients
4 fresh tilapia fillets
4 tbsp Cajun seasoning (paprika, onion powder, garlic powder, kosher salt, cayenne pepper)
4 tbsp olive oil
Kosher salt
1 lb spiralized sweet potato (or you can use your own spiralizer to shape sweet potatoes)
1 lb fresh asparagus (ends cut)
Instructions
Preheat oven to 375 degrees F.
Prepare three medium baking sheets with a light coat of non-stick cooking spray.
Place tilapia filets on one baking sheet spread evenly apart.
Drizzle filets with about 2 tbsp olive oil.
Sprinkle about 1 tbsp Cajun seasoning evenly over each filet.
Place spiralized sweet potato strands evenly over second baking sheet.
Drizzle about 1 tbsp olive oil over potatoes and sprinkle with a pinch of kosher salt.
Place raw asparagus flat on third baking sheet and drizzle with remaining 1 tbsp olive oil.
Sprinkle with a pinch of kosher salt.
Bake all three pans for about 20 minutes or until fish is cooked through and potatoes are tender.