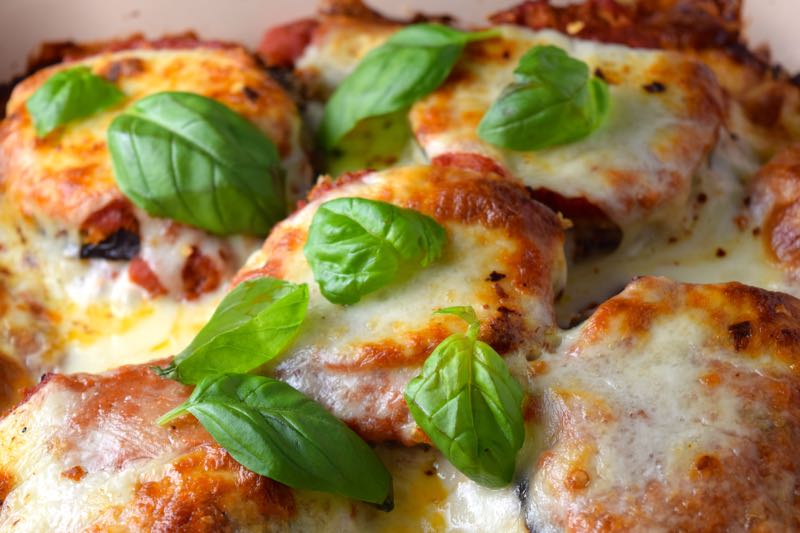 This Baked Eggplant Parmigiana is a perfect lighter alternative to this traditionally fried dish. This dish stands alone as a one pan wonder or can be served with pasta or salad. Buon Apetito! Enjoy!

Baked Eggplant Parmigiana
Ingredients
1 large eggplant, sliced into ½-inch rounds
4 tbsp EVOO
1 24 oz jar of your favorite marinara or arrabbiata (spicy marinara) sauce
8 oz log of fresh mozzarella, sliced into ⅓-inch rounds
1 tsp red pepper flakes
¼ cup fresh basil leaves, roughly torn
Salt and Pepper to taste
Instructions
Preheat oven to 400 degrees F.
Line a baking sheet with eggplant slices, making sure there is about ⅓-inch of space between each slice.
Brush both sides of each slice with EVOO and sprinkle liberally with salt and pepper and bake for 30-45 minutes or until evenly roasted. Remove from oven.
In a large and deep baking dish, assemble towers stacked in the following order: one slice of eggplant, one slice of mozzarella, and one slice of eggplant on top. You should have enough ingredients to make 5 to 8 towers. Make sure to leave at least an inch between each tower.
Pour entire jar of marinara sauce on top of the towers and then place remaining mozzarella on top of each tower.
Sprinkle with red pepper flakes, salt, and pepper. Bake for 20-30 minutes, or until the mozzarella begins to brown.
Garnish with fresh basil leaves. Enjoy!