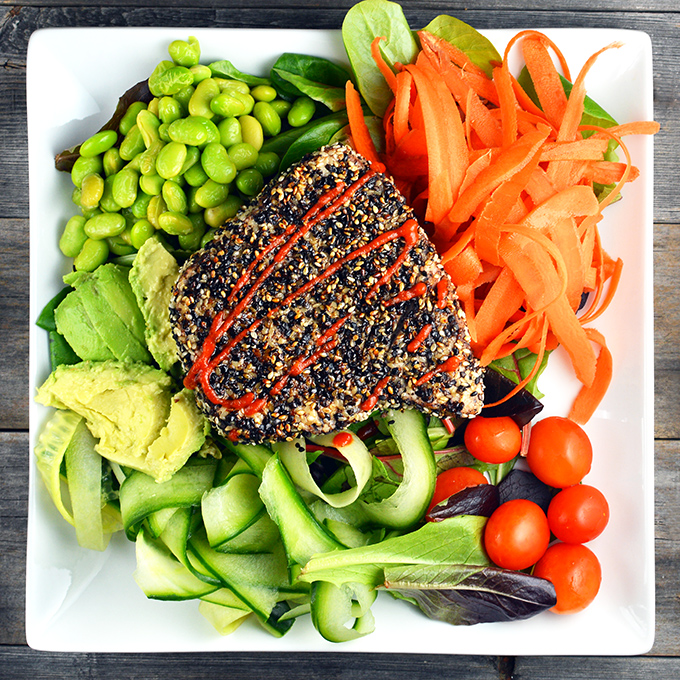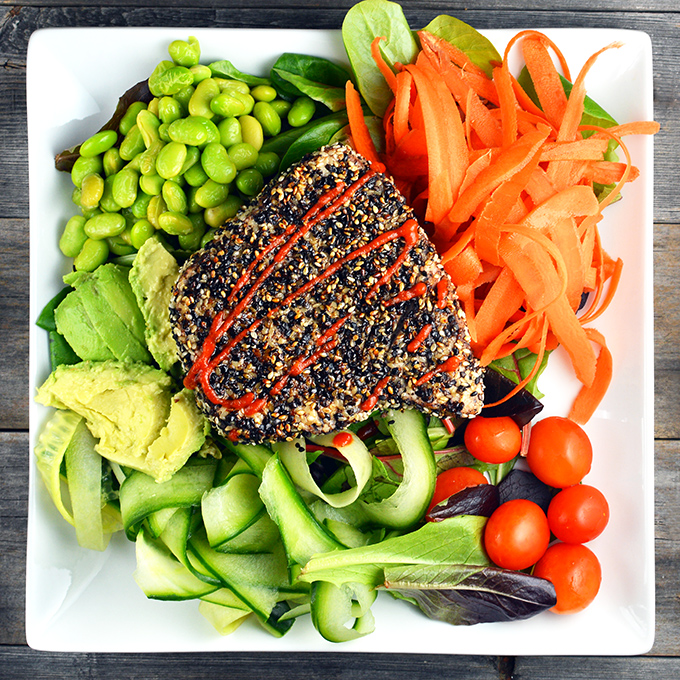 My Asian Seared Ahi Tuna Salad with peanut dressing is a simple, yet fancy low-carb meal. It is perfect if you're trying to eat less carbs or just want to enjoy a fancy salad at home. It is full of flavor and low on calories. Enjoy!

Asian Seared Ahi Tuna Salad
Ingredients
½ cup peanut butter
2 tbsp honey
¼ cup rice vinegar
½ cup teriyaki sauce
1 tsp fresh grated ginger
1 tsp Sriracha
Juice and zest of 1 lime
2 cups mixed greens
½ English cucumber sliced thinly with vegetable peeler
½ cup shelled defrosted edamame
½ cup thinly grated carrots
1 avocado sliced into small chunks
½ cup pearl tomatoes
2 sushi grade ahi tuna steaks (about ½ lb each)
3 tbsp sesame seeds
3 tbsp black sesame seeds
3 tbsp fresh crack rainbow peppercorns
1 tbsp Himalayan salt
Instructions
In a medium bowl, whisk together peanut butter, honey, rice vinegar, teriyaki sauce, ginger, Sriracha and lime juice/zest until completely smooth. Set aside.
On two large plates, assemble the salads by placing approximately half of each kind of prepared vegetable on each plate as desired. Set Aside.
In a medium bowl, combine sesame seeds, black sesame seeds, pepper and salt.
Use your hands to coat both tuna steaks completely with sesame seed mixture.
Heat a grill pan on high heat with a light coat of non-stick cooking spray.
Place tuna steaks on grill pan and sear each side for about 3-4 minutes, or until tuna is medium rare (still pink on the inside).
The sesame mixture should form a crispy shell on the outside of the tuna steak.
Place one tuna steak on top of each salad and service with peanut dressing and Sriracha.