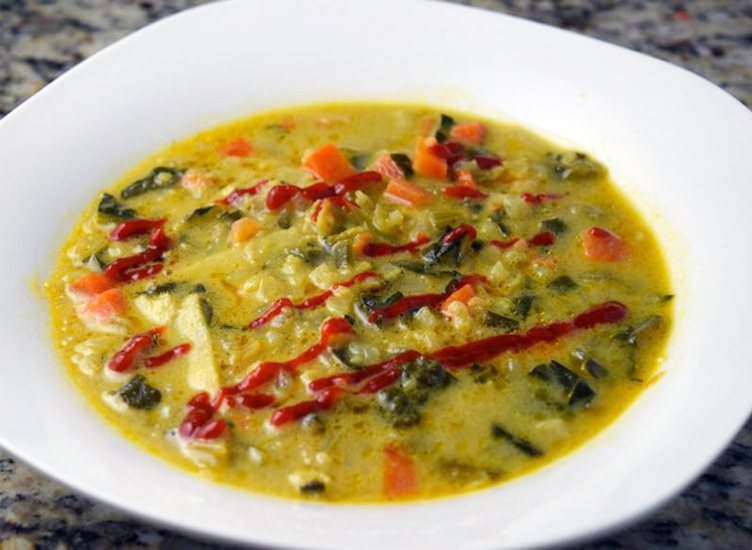 This velvety Vegetable Curry Soup is decadent and exotic. This soup is the perfect stand alone main course or side to any meal. Top with chili sauce for an extra burst of spice! 

Vegetable Curry Soup
Ingredients
3 tbsp EVOO
1 large white onion, chopped into ½-inch cubes
3 carrots, chopped into ½-inch cubes
3 celery stalks, chopped into ½-inch cubes
3 cups cauliflower, riced
3 cups Tuscan kale, roughly chopped
1 can coconut cream
4 cups vegetable broth
2 tbsp curry powder (any kind you like)
2-inch cube of fresh ginger, grated
Salt and Pepper to taste
¼ fresh cilantro leaves
Chili sauce
Instructions
In a large Dutch oven pot over medium-high, sauté onion, carrot, and celery in EVOO for approximately 5 minutes until slightly softened.
Sprinkle in the curry powder and ginger, and sauté another two minutes.
Add cauliflower, coconut cream, vegetable broth, salt, and pepper. Lower heat and simmer for 25 minutes.
Mix in the kale and simmer another 10 minutes.
Remove from heat. Garnish with fresh cilantro leaves, chili sauce, or both.
Enjoy!