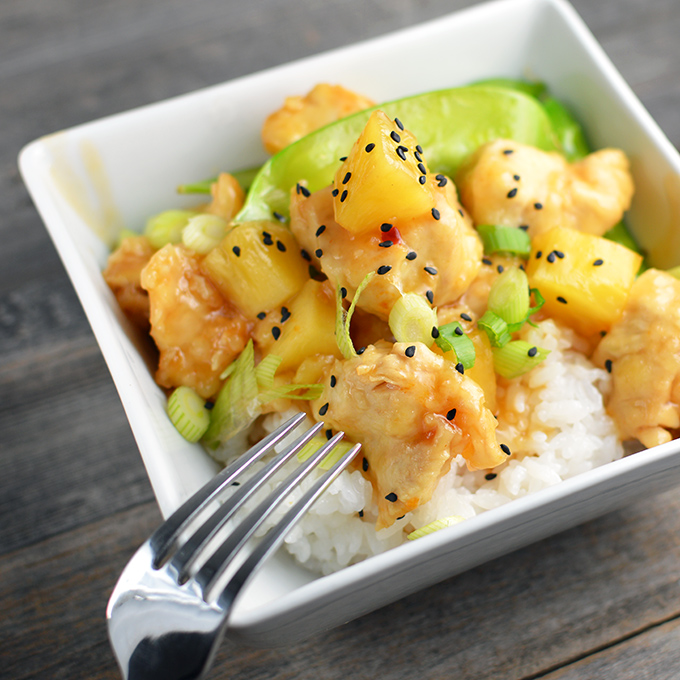 Who needs Chinese takeout when you can prepare it at home in under and hour and with less calories? My Sweet and Sour Chicken is a delicious and lighter take on the popular Chinese dish. Serve it with your favorite rice and snow peas. Now all you need is the Fortune Cookie!

Sweet and Sour Chicken
Ingredients
2 boneless skinless chicken breasts sliced into bite-sized cubes
¾ cup corn starch
¼ cup vegetable oil
1½ cups pineapple juice
¼ cup rice vinegar
¼ cup ketchup
¼ cup low sodium soy sauce
1 cup pineapple chunks (canned, frozen or fresh)
Scallions for garnish
Black sesame seeds for garnish
Instructions
Place chunks of chicken in a large zip top bag and add ½ cup of cornstarch.
Seal bag and shake it until every piece of chicken is thoroughly coated in corn starch.
Heat a large wok on medium-high heat with about half of the allotted oil.
Once oil is hot, add about half of the chicken (carefully, as oil may splatter) and cook chicken by stirring with large spoon constantly.
Once chicken is cooked (about 4-5 minutes), transfer to a plate and repeat this process with remaining chicken.
While chicken is cooking, pour 1 cup of pineapple juice into a large saucepan and simmer uncovered on medium heat.
Set remaining ½ cup of juice aside for now.
Add rice vinegar, ketchup, and soy sauce to juice in saucepan.
Use a whisk to periodically make sure ingredients are combined.
In a small bowl, whisk together remaining ½ cup pineapple juice and ¼ cup of corn starch.
Once corns starch and juice mixture becomes completely smooth, add to hot saucepan and whisk gently for about two minutes until sauce begins to thicken.
Once the sauce thickens, add pineapple chunks and chicken pieces.
Make sure chicken and pineapple are completely coated in sauce.
Cover and allow to cook for about 5 more minutes on low heat.
Serve over a bed of rice and garnish with scallions and black sesame seeds.