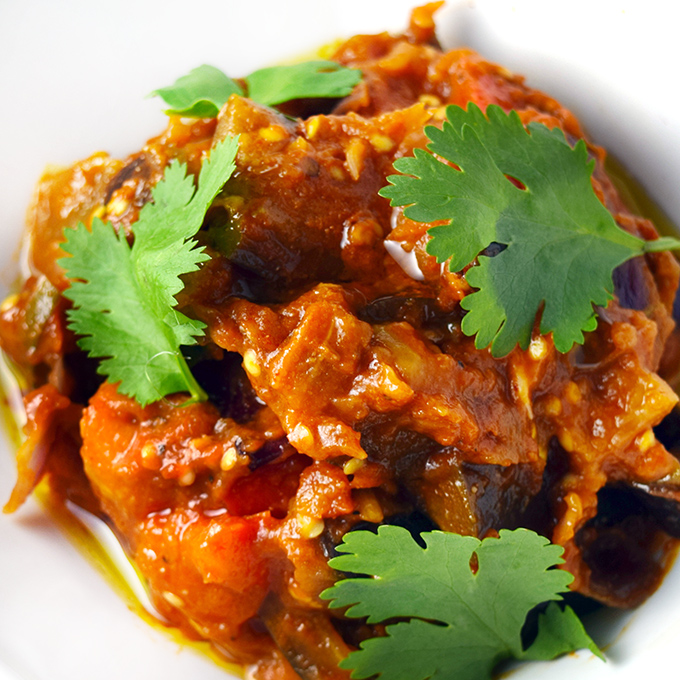 This Spicy Turkish Eggplant Salad is one of my favorite appetizers. Serve it with crostini, pita chips, or on its own. It will never disappoint! Enjoy! 

Spicy Turkish Eggplant Salad
Ingredients
5 tbsp EVOO (plus 1 tbsp to garnish)
1 large red onion, finely chopped
3 cloves of garlic smashed
1 large red bell pepper, cut into 1" cubes
1 large eggplant, cut into 1" cubes
1 medium jalapeno pepper, finely chopped (leave in seeds to make it spicier)
1 tsp smoked paprika
1 tsp ground cumin
1 tsp sugar
1 14oz can of crushed tomatoes
Salt and Pepper to taste
¼ cup cilantro leaves
Instructions
In a large dutch oven pot over medium-high heat, sauté red onion in 5 tbsp EVOO for five minutes or until translucent.
Add garlic, red bell pepper, and eggplant, and sauté for another five minutes.
Add jalapeño pepper, smoked paprika, cumin, sugar, salt, pepper, and crushed tomatoes. Stir until evenly combined.
Reduce heat to low. Cover the Dutch oven and simmer for approximately 45 minutes, stirring every few minutes.
Once the eggplant has thickened and has begun to break down, you will know it is ready.
Remove from heat. Garnish with 1 tbsp EVOO and cilantro leaves.
You can serve this salad warm or cold. Enjoy!