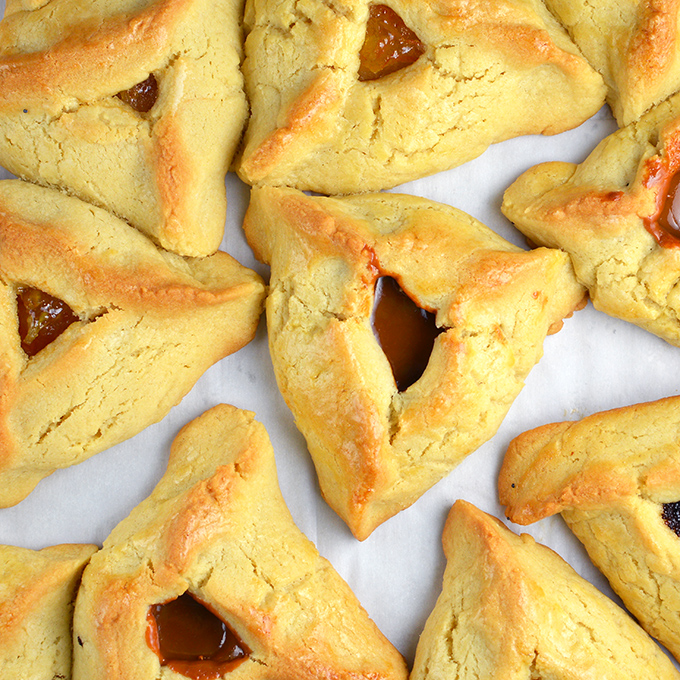 My Sour Cream Hamantaschen are delightfully rich cookies traditionally eaten on the Jewish holiday of Purim. They are slightly crunchy on the outside and soft on the inside with a sweet surprise in the middle.

Sour Cream Hamantaschen
Serves:
2 Dozen Hamantaschen
Ingredients
½ cup vegetable shortening
1 cup sugar
1 egg
1 tsp vanilla
1 tbsp orange zest
½ cup sour cream
½ tsp baking soda
½ tsp salt
1 tsp baking powder
2⅔ cups flour
Egg wash (1 egg plus 1 tbsp water whisked together)
Instructions
Cream butter and sugar together.
Add egg, vanilla, sour cream, and zest.
Mix thoroughly.
Gradually add in dry ingredients.
Divide dough in half.
Shape both halves into disk shapes and wrap tightly with plastic wrap.
Chill for at least one hour in the fridge.
Dough can be kept in the fridge overnight.
Work with half the dough at a time, and keep the rest cool.
Roll to about a ¼ inch thick and cut into 3-inch rounds using a drinking glass rim or a round cookie-cutter.
Brush each dough round lightly with egg wash.
Fill the center with a teaspoon of your favorite filling.
Pinch dough to form triangles.
Lightly brush tops of cookies with egg wash.
Bake 8-10 minutes at 375 degrees F.
Cookies will be slightly golden brown.