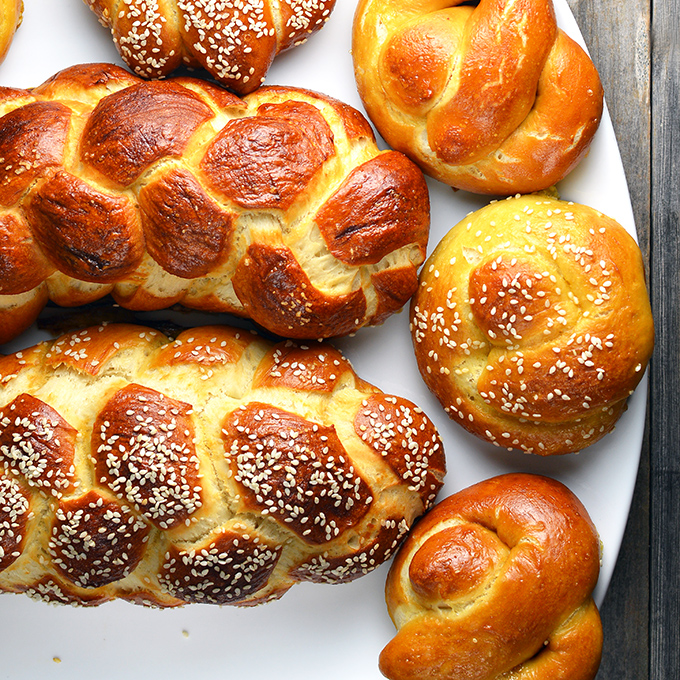 My Soft Pretzel Challah is just about the most divine homemade bread recipe I have ever made. They are soft, moist, and ever so slightly chewy with that unmistakable classic pretzel taste. Click here for other Challah recipes.

Soft Pretzel Challah
Ingredients
2¼ tsp active dry yeast
1 cup warm water
1 tbsp unsalted butter, melted
1 tbsp sugar
1 tsp salt
3 ½ cups all-purpose flour
3 cups water
¼ cup baking soda
2 egg yolks plus 1 tbsp water for eggwash
Toppings: coarse salt and sesame seeds
Instructions
Combine yeast with warm water and sugar in the bowl of your stand mixer fitted with hook attachment.
Once mixture bubbles, stir in salt and melted butter.
Add flour gradually until a ball of dough forms and is no longer sticky.
Knead dough for 5 more minutes until smooth and pliable.
Form dough into a ball and place it into a greased bowl to rest for about 30 minutes.
As dough rises, prepare baking soda bath.
In a large pot, bring water with baking soda to a boil.
Once dough has finished resting, remove dough from bowl and cut into 2 equal halves.
Braid two challah loaves from the two equal portions of dough.
Once challah loaves are braided, carefully place one into pot of boiling baking soda water using a large spatula.
Leave in boiling water for about 30 seconds, making sure the entire loaf is submerged.
Carefully remove the loaf with spatula and gently place on a parchment-covered baking sheet.
Repeat steps with second challah loaf.
Preheat oven to 450 degrees F.
Brush both loaves with eggwash and sprinkle with coarse salt and/or sesame seeds. Bake for about 20 minutes or until challah loaves are a dark brown color.