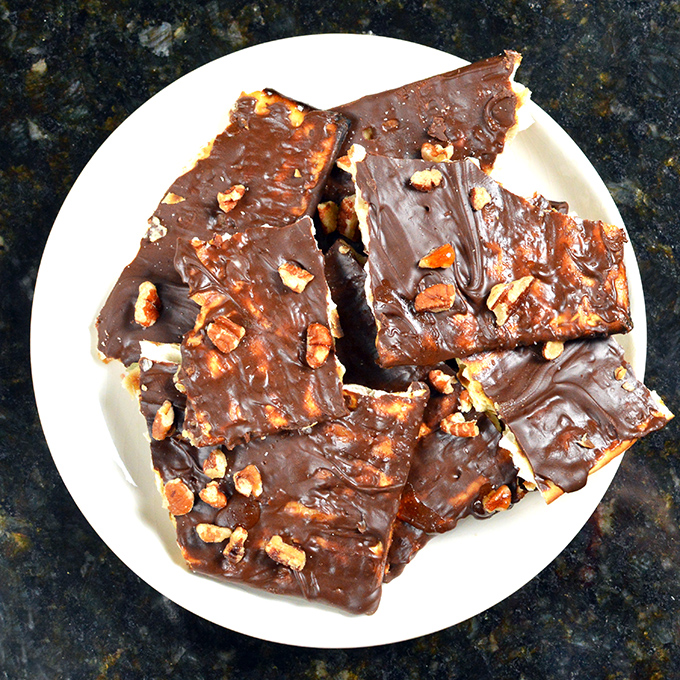 My Sinful Chocolate Toffee Matzah is a decadently delicious Passover dessert treat. It is quite simple to prepare and always a big win at the Passover table. It can be made dairy or non-dairy. Enjoy!

Sinful Chocolate Toffee Matzah
Ingredients
5 square sheets of matzah
2 sticks of butter/margarine (dairy or non-dairy)
1 cup dark brown sugar
12 oz bittersweet chocolate chips
½ cup chopped pecans
1 tsp coarse sea salt
Instructions
Preheat oven to 350 degrees F.
Cover two large baking sheets with foil.
Please parchment paper over foil on both baking sheets.
Place two and a half sheets of matzah on each prepared baking sheet.
In a small saucepan, melt butter on medium heat and add brown sugar.
Whisk constantly until it begins to boil.
Once it begins to boil, continue whisking for about 5 more minutes until mixture thickens.
Remove from heat and pour mixture evenly over matzah on both pans.
Place pans in oven and bake for about 10 minutes.
Remove from oven and immediately sprinkle chocolate chips over coated matzah and allow to melt for about three minutes.
Once chocolate has melted, use a spatula to spread chocolate evenly over each piece of matzah.
Sprinkle nuts and sea salt over melted chocolate.
Chill pans in refrigerator for 1 hour.
Remove matzah from pans and break into bite-sized pieces.