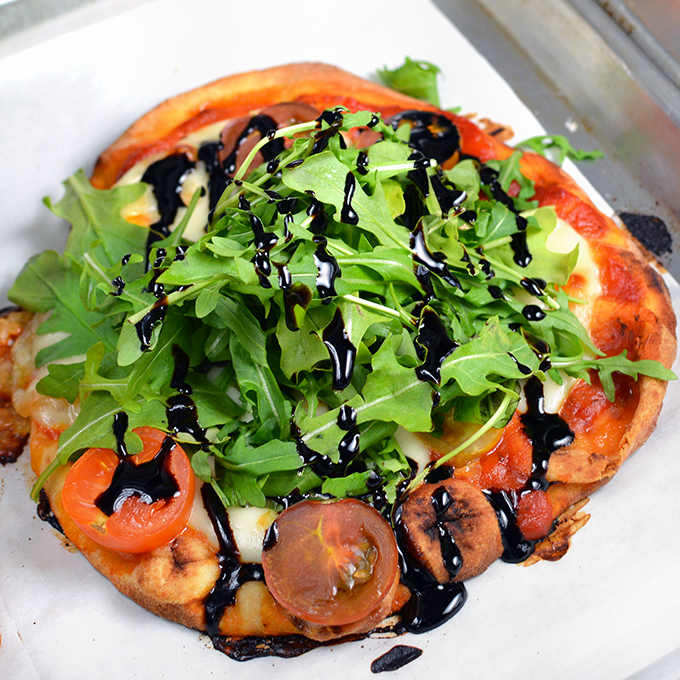 My Positano Inspired Pizza is a fresh and delicious take on the traditional Margherita Pizza. Several years ago, my sister and I had the privilege of visiting Positano on the beautiful Amalfi Coast of Italy. During our visit, we ate some of the most delicious pizza of our lives. It was much like this pizza that I have shared with you all – a delicious pizza with a salad on top. I hope you will enjoy! Buon Apetito!

Positano Inspired Pizza
Ingredients
2 pieces of store-bought flat bread, size does not need to be precise (Naan works well)
½ cup marinara/pizza sauce of your choice
¼ lb fresh mozzarella sliced into ½-inch thick rounds
¼ cup heirloom cherry tomatoes sliced into halves
1 tbsp fresh basil, chopped
1 cup fresh arugula
2 tbsp store-bought balsamic glaze
Instructions
Preheat oven to 400 degrees F.
Prepare one large baking sheet with parchment paper.
Place both pieces of flatbread on baking sheet.
Using a large spoon, spread about ¼ cup of sauce evenly over each piece of bread, making sure to leave the edges without sauce.
Place about half of the cheese slices on each pizza, spread evenly apart over the sauce.
Place tomato halves evenly over each pizza.
Bake pizzas for about 15 minutes, or until cheese is melted and slightly browned.
Remove from oven.
Sprinkle basil over each pizza.
Place about half of arugula over the top of each pizza and drizzle balsamic glaze over each.
Use a pizza-cutter to divide as desired.