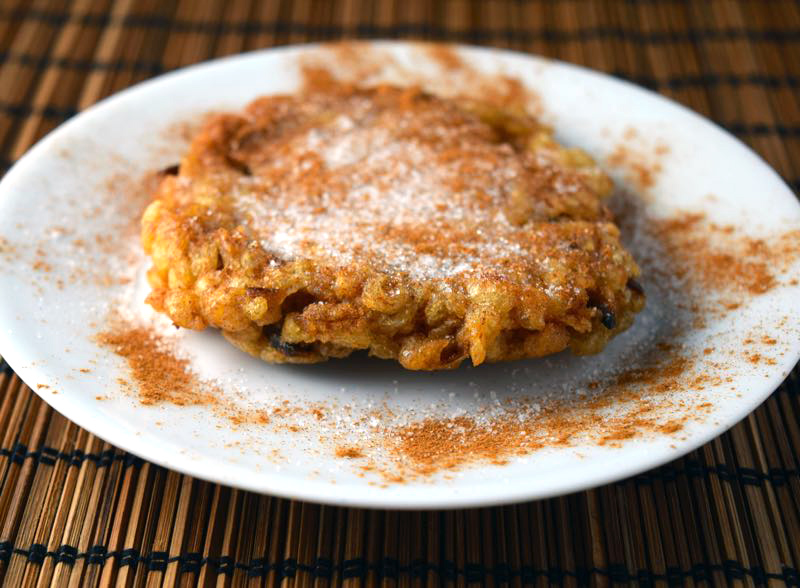 These Matzah Fritters (Bimuelos) are crispy and deliciously sweet. They resemble donuts and can be eaten for breakfast, or as an accompaniment to lunch or dinner. Enjoy!

Matzah Fritters (Bimuelos)
Ingredients
1 box Matzah
2 cups warm water
4 large eggs
1 tsp salt
3 tbsp plus ¼ cup white sugar for garnish
1 tbsp plus 1 tbsp cinnamon for garnish
1 cup vegetable oil
Instructions
Break Matzah into small pieces and place into a large bowl. Pour warm water over the Matzah and let soak for 5 minutes.
Drain and squeeze excess water out of bowl.
Add eggs, salt, 3 tbsp white sugar, and 1 tbsp cinnamon to the Matzah and stir until evenly combined. The Matzah will break down into smaller pieces.
Pour oil into large frying pan over medium-high heat.
When the oil is hot, pour heaping spoonfuls of the batter into the oil. Cook each side of the fritter for approximately 3 minutes.
Place fritters on paper towels to drain and garnish with more sugar and cinnamon.
Enjoy!