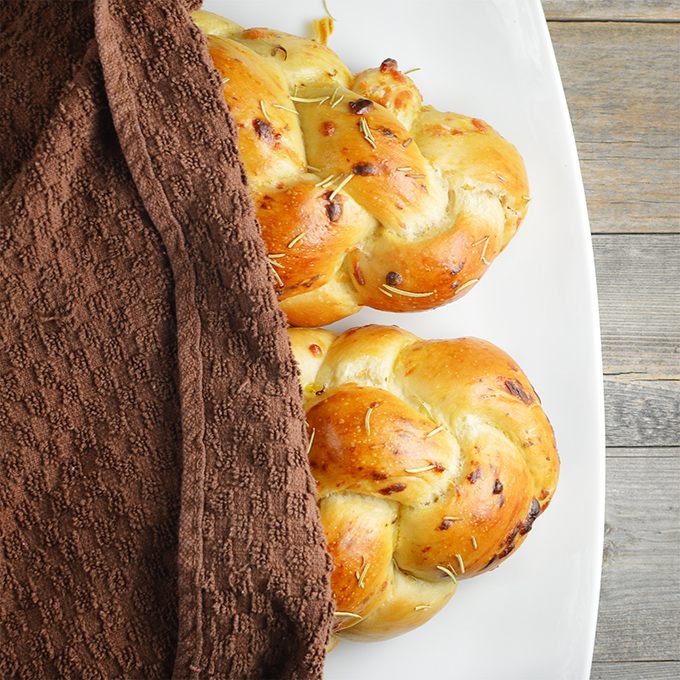 My Italian Herb and Cheese Challah is a complete splurge. It is my classic eggless challah with cheesy herby goodness added to every bite. Serve with minestrone soup or a big salad. It is absolutely addicting!

Italian Herb and Cheese Challah
Ingredients
2 tbsp. dry active yeast
1½ cups lukewarm water
¼ cup honey
¼ cup sugar
¼ cup oil
Pinch of salt
6-8 cups all purpose flour
¼ cup grated mozzarella cheese
¼ cup grated parmesan cheese
1 tbsp. dried Italian herbs (oregano, parsley, rosemary)
1 egg yolk plus 1 tbsp. of water (for egg wash)
Dry rosemary for sprinkling on challah
Instructions
In a mixer, combine yeast and warm water.
Let stand for 5 minutes.
Attach the dough attachment to the mixer.
With the mixer on low, add all ingredients except flour.
When well combined, gradually add flour, one cup at a time until dough forms a ball that is just slightly sticky.
Gradually add herbs and cheese until evenly combined.
Remove dough and add to a greased bowl.
Cover and let stand until dough has doubled in size.
Remove dough from bowl and braid (or shape), as desired.
Place on greased pan.
Brush with egg wash and sprinkle with dried rosemary.
Bake at 400 degrees for 20 minutes.