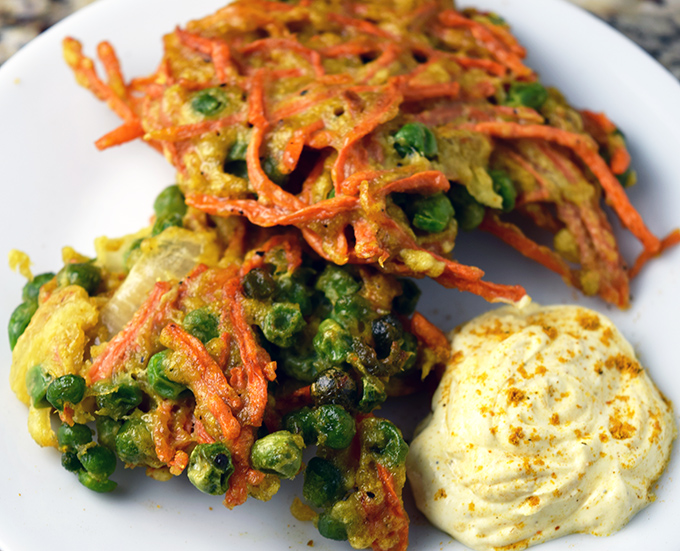 This Indian Carrot Pea Pancake with Curry Yogurt Sauce is an exotic twist to the traditional potato pancake, or latke. You can enjoy it as a side dish or make if the star of your meal. Enjoy! 

Indian Carrot Pea Pancake with Curry Yogurt Sauce
Ingredients
For the Pancakes:
2 lbs matchstick carrots (Note: you can also grate 2 lbs of carrots, however, it's easier to use the pre-cut matchstick variety)
1 bag frozen peas, thawed
1 large white onion, thinly sliced
4 eggs
⅔ cup flour
1 tbsp curry powder
Salt and Pepper to taste
Vegetable oil for frying
For the yogurt sauce:
1 cup Greek yogurt
½ cup sour cream
1 tsp curry powder
1 tsp salt
Instructions
Add the carrots, peas, onion, eggs, flour, curry powder, salt, and pepper into a large bowl. Stir until everything evenly combined.
Pour about 1" of vegetable oil into a large frying pan on medium-high heat. When the oil begins to bubble slightly, pour heaping spoonfuls of the batter into the hot oil, leaving approximately an inch between each pancake.
Pancakes should cook for 2-3 minutes on each side.
When done, remove and place pancakes onto a plate lined with paper towels and season with more salt.
Continue this process until you run out of batter.
In a small bowl, whisk together Greek yogurt, sour cream, curry, and salt. Chill and serve with the pancakes.
Enjoy!