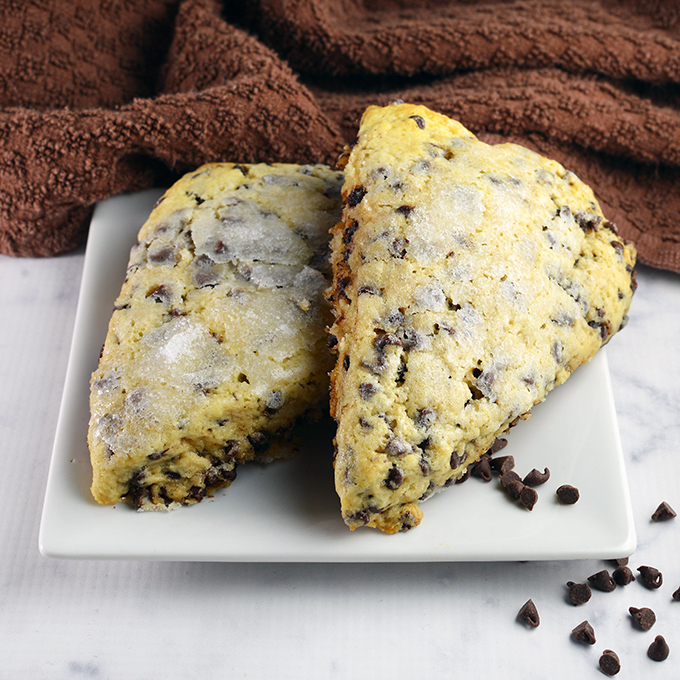 My Gooey Chocolate Chip Scones are a sinful way to start your day. They are soft, moist and if eaten straight from the oven, filled with melted chocolate. Enjoy with a cup of coffee, tea, or a tall glass of ice-cold milk.

Gooey Chocolate Chip Scones
Ingredients
2 ½ cups all-purpose flour
½ tsp salt
¼ cup sugar
2 tsp baking powder
6 tbsp cold unsalted butter, cubed
¾ cup cold heavy whipping cream, plus more for topping
2 large eggs
1 tsp vanilla
1 ½ cups mini chocolate chips
4 tbsp sanding sugar (option)
Instructions
Preheat the oven to 400ºF. Line a baking sheet with parchment paper.
Whisk together the flour, salt, sugar and baking powder in a medium bowl.
Add the butter and use your hands to work it into the flour until the mixture is crumbly.
In a separate medium bowl, whisk together the heavy cream, eggs and vanilla extract.
Add the wet ingredients into the bowl with the dry ingredients, along with the mini chocolate chips, and mix until a moist dough forms.
Transfer the dough onto a floured work surface and gather it into an 8-inch circle that's about ¾-inch thick.
Cut the circle into 8 even wedges.
Transfer the scones onto the baking sheet spacing them about 1.5 inches apart.
Brush the tops of the scones with heavy cream and then sprinkle them with the sanding sugar (optional).
Bake the scones for about 20-25 minutes until they're slightly golden and baked through.
Remove from the oven and serve immediately.