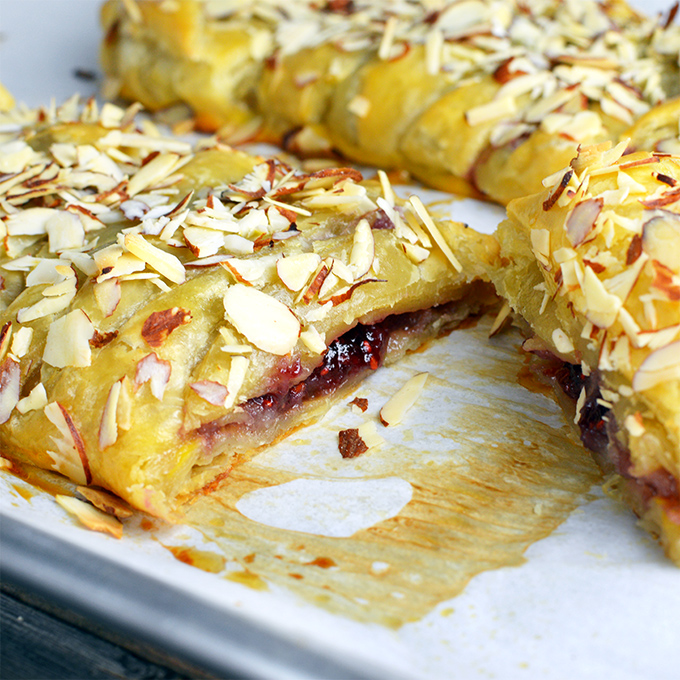 My Bear Claw With A Raspberry Twist is a delightful dessert that looks much more complicated than it actually is to make. If you are a fan of almonds, raspberries and flaky buttery pastries, this dessert is for you. Enjoy with a cup of coffee or tea.

Bear Claw With A Raspberry Twist
Ingredients
1 sheet frozen puff pastry, defrosted overnight in refrigerator
½ cup almond paste
½ cup raspberry preserves
1 egg yolk plus 1 tbsp. water (eggwash)
2 tbsp. slivered almonds
Instructions
Preheat oven to 400 degrees F.
Prepare a baking sheet with parchment paper.
Unfold and place defrosted (but chilled) puff pastry sheet vertically on a lightly floured surface.
Place an even layer of almond paste all over the middle third of the puff pastry.
Spoon and even layer of raspberry preserves over almond paste.
Using a sharp knife or pizza cutter, cut strips on both sides of pastry without detaching them.
Once both sides have been cut, braid the strips over the filling (almond and raspberry) by alternating placing one strip from one side over another strip from another side.
Fold the remaining pastry dough from top and bottom over to create clean edges.
Brush entire pastry with eggwash.
Sprinkle pastry with slivered almonds.
Bake for about 20 minutes or until pastry is puffy and golden brown.