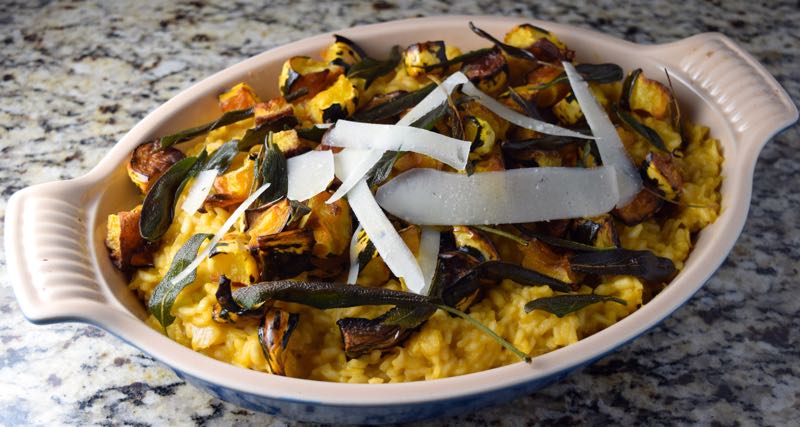 This Autumn Squash and Crispy Sage Risotto is one of my favorite fall comfort foods. It's a perfect side or main dish, and can be made with any type of squash. Enjoy!

Autumn Squash and Crispy Sage Risotto
Ingredients
4 tbsp EVOO
1 tbsp butter, unsalted
1 large carnival squash, cleaned (skin left on) and chopped into 1" cubes
2 large shallots
2 large garlic cloves
2 cups arborio rice
4 - 6 cups vegetable stock, low sodium
2 tbsp half and half
¼ cup plus 2 tbsp pecorino-romano, grated
¼ cup sage leaves
Salt and Pepper to taste
Instructions
Preheat oven to 425 degrees. Spread carnival squash cubes onto baking sheet and drizzle with 1 tbsp EVOO, salt and pepper. Bake for 45 minutes or until golden brown.
In a large pot on medium-high heat, saute shallots and garlic cloves in 2 tbsp EVOO and 1 tbsp butter for 3 minutes.
Toss in arborio rice and coat the rice with the EVOO and butter.
Pour in 2 cups of vegetable stock and stir regularly until the rice thickens.
Add in the remaining stock, one cup at a time, until the rice is "al dente." You may not need all six cups of stock.
Stir in half and half, pecorino-romano cheese, salt and pepper and lower heat. Continue stirring regularly.
In a small saute pan over medium-high heat, crisp the sage leaves in 1 tbsp EVOO. They should only take about 30 second on each side. Remove from heat and let them drain on a paper towel.
Pour risotto into a deep serving dish. Assemble the carnival squash on top of the risotto. Garnish with the crispy sage leaves and remaining 2 tbsp pecorino-romano.
Enjoy!