Welcome to Chef Times Two food blog! We're Chef Shosh and Chef Eli, and while we live in very different parts of the country, we are twin sisters and best friends. Together with our husbands, we have created this space to share our passion for food.
For as long as we can remember, one of our greatest passions in life has been food – eating it, cooking it, shopping for it, learning about it, going to a nice restaurant for it, reading about it. It nourishes our bodies and our souls each and every day and has the power to bring our families together for all occasions. The kitchen is the heart of the home and making a home-cooked meal or treat for someone special is one of the greatest ways to say "I love you."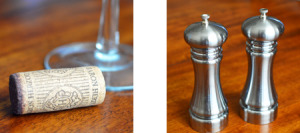 Over the past few years, cooking has become our daily therapy. Some of our best original recipes have come to us after a long, hard day at work in our respective cities, decked out in our cooking aprons, with some good music playing in the background. Our amazing husbands happen to really enjoy photography and it has become a fun hobby for all of us to work on together on a weekly basis after hours. We cook and they photograph. We are all so incredibly thrilled to be able to share these original recipes with anyone who wishes to recreate them in their own homes and for their own families. Buon appetito!